L.Day was born in the Finger Lakes Region and has been shooting for about 20 years.
She could not resist picking up the camera to share that beauty around her with others. If only everyone could be so lucky as to live in these surroundings.
"Everywhere I drive there is another lake around the bend, a hill to climb then a glimpse of the land in a seascape view, descending into homes that are more spectacular than anything you could ever really ever need. But none the less the beauty is breathtaking and makes you want to pull over, to sit and watch it for no particular reason other than to feel a sense of peace wash over you, as the rest of the world is forgotten. Sounds Cliche'? But true. I try to drive often into places not many people would go - to find those hidden things that have been left behind to turn slowly into a buried treasure. Old random abandoned cars, equipment, fallen down houses that were abandoned and left for nature to claim. We actually still have old dirt roads around here and there - you have to look but they are still around. I have become a treasure hunter."
She has been published in the 2001 book "Pathway To The Future" by The International Library of Photography, has been in shows at "All Things Art" in Ontario County, has taken pictures of bands for a promotional music event, and has had various other jobs and published work.
Most of note ~ a brouchure for a local church and Sonnenberg Gardens, extra work for a church directory and website, and weddings, although her heart lays still with the vast region of beauty around her - in the landscape full of trees, hiking trails, the waterways, and even the single flowers that show themselves from spring until late fall.
Atrium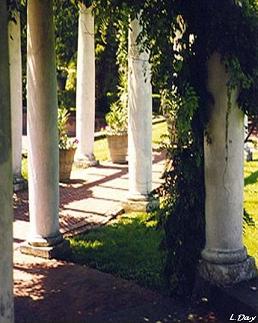 Atrium 8*10 $150.00
Plus Shipping
You mat and frame.
This keeps my costs down, which keeps your costs down.
Email me with page name and photo number in the order
which it appears on the page if you would like to order any of these photos.
Photos are all in 8*10 format.
Email me with any questions about this website.

Powered by WebRing.
(c) 2007 DayPhotography